Fire Suppression Systems for Lithium-Ion Batteries
Discover the unique properties of our aerosol extinguishing systems
Fire protection for
Lithium Batteries
Our aerosol extinguishing systems and fire extinguishers are extremely suitable for protecting lithium-ion batteries. Many fire extinguishers are unsuitable for extinguishing lithium-ion batteries due to the high risk of dangerous chemical reactions and re-ignition. Thanks to their unique properties, our aerosol generators do not have these problems. Our systems can be used for the protection of production, storage and transport. Our generators have already been successfully used in:
Storage cabinets and storage areas of devices with lithium-ion batteries such as electric bicycles, e-scooters and electric golf trolleys
Battery Transport Boxes
Battery Storage containers
Electricity Storage
Containers
Laboratories
Test benches
Assembly lines
Lithium-ion cells pose a major challenge to fire protection because the flames that arise during a fire reach extremely high temperatures and there is therefore a high risk of an uncontrollable fire spread.
The use of extinguishing water only leads to an extinguishing success with an extremely large amount of water. This is hardly feasible with mobile extinguishing systems and often not possible even with stationary sprinkler systems. In addition, when water comes into contact with burning battery cells, explosive amounts of hydrogen can be formed and when the lithium in the cells cross-reacts, highly toxic acids, such as hydrofluoric acid, for example, are formed. Therefore, the fire extinguishing water must also be collected and handled with particular care as it can be potentially hazardous waste.
Oxygen-displacing extinguishers can only extinguish burning lithium-ion cells to a limited extent because they can release oxygen themselves in the event of a fire, making permanent suffocation of the flames impossible.
That is why our aerosol as an extinguishing agent has now established itself among many users as the means of choice for fire protection of lithium-ion cells.
Aerosol has the following major advantages in the fire protection of lithium-ion batteries:
Quick extinguishing success; The aerosols generated by our aerosol generators reach the burning cells within seconds and immediately stop the fire.
Long efficacy: After the aerosol is dispensed, it has a shelf life that can be up to several hours.
No side effects: Aerosol does not cause dangerous cross-reactions with the components of the lithium-ion batteries.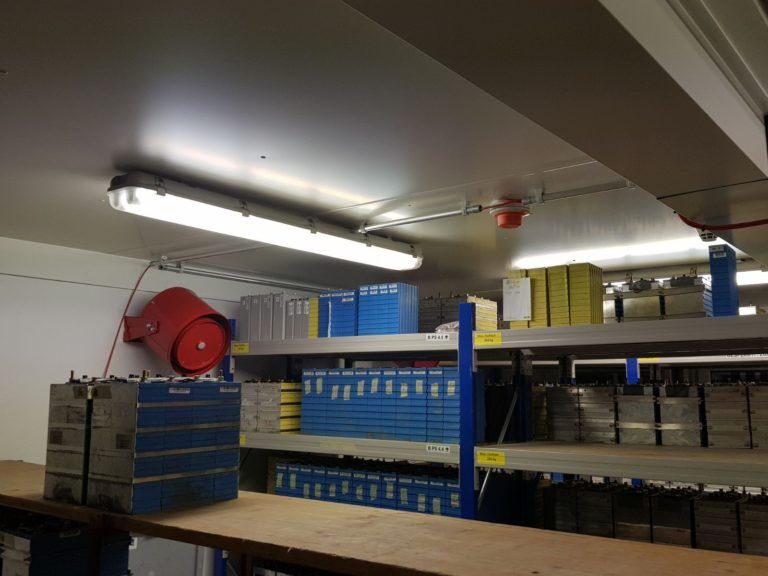 To investigate the effectiveness of our extinguishing aerosol in lithium-ion battery fires, we commissioned a series of fire tests at the Center for Solar Energy and Hydrogen Research Baden-Württemberg (ZSW). The results of the extinguishing tests at the ZSW confirmed our experience:
Aerosol generators from RSL Fire can extinguish gas flames from damaged lithium cells very quickly and effectively.
The long-lasting effectiveness of the aerosol helps to permanently suppress the gas flames that occur after the extinguisher has been activated, even over a longer period of time (up to several hours).
Aerosol can quickly and permanently extinguish burning packaging material.
Aerosol helps slow the thermal runaway and lower the temperature level of neighboring cells and thus can stop or at least significantly slow the spread of a fire.
The ZSW report summarizes as follows: "… Burning lithium cells were effectively extinguished. The burning time (open fire) can be considerably shortened by the aerosol extinguisher. It has been shown that the use of the fire extinguisher can prevent or significantly reduce the spread of fire. … "The thermal runaway is significantly delayed and if there are greater distances between damaged and undamaged cells, the rapid extinguishing success can most likely prevent it from spreading.
Our extremely compact fire extinguishers and generators can be used in almost all transport or storage applications and in most cases can also be easily retrofitted or integrated into existing objects. When it comes to fire detection, we can rely on proven components for technical fire protection. Whether smoke or temperature detectors and/or manual activation, everything is possible.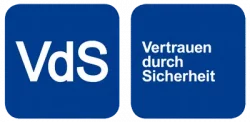 The RSL Fire aerosol fire suppression systems are the first aerosol systems certified by Europe's number one for fire protection: VdS
Advantages of our
Aerosol Fire Suppression Systems
How does aerosol work as
extinguishing agent?
The fire is recognized by means of a fire detector, electrical ignition or fully autonomous analog ignition. Our Aerosol generator generates the aerosol and an endothermic reaction converts potassium hydrogen carbonate into potassium carbonate, chemically removing oxidizing substances from the combustion process and extinguishing the fire. At the same time, additional heat is extracted from the combustion process. This way the fire is extinguished in two ways and the chance of re-ignition is considerably reduced. During the extinguishing process, no oxygen is extracted and the residual potassium carbonate product is environmentally friendly and easy to clean up. More information about our extinguishing systems and extinguishing technology.
Are you interested in our aerosol fire suppression systems or fire extinguishers? Request more information or contact us.
Industries

& Applications